I've drafted a lot of the intermediate League Ixalan drafts in the last three days it's been available online (well, four drafts, which is a lot for me
). My p1p1 in the very first one was
Huatli, Warrior poet
, I ended with a fine RW aggro Dino deck splashing for two
Savage Stomp
and a
Regisaur Alpha
. But what I want to talk about here is the fourth draft, where I first-picked
Shapers of Nature
over
Star of Extinction
, which led to this: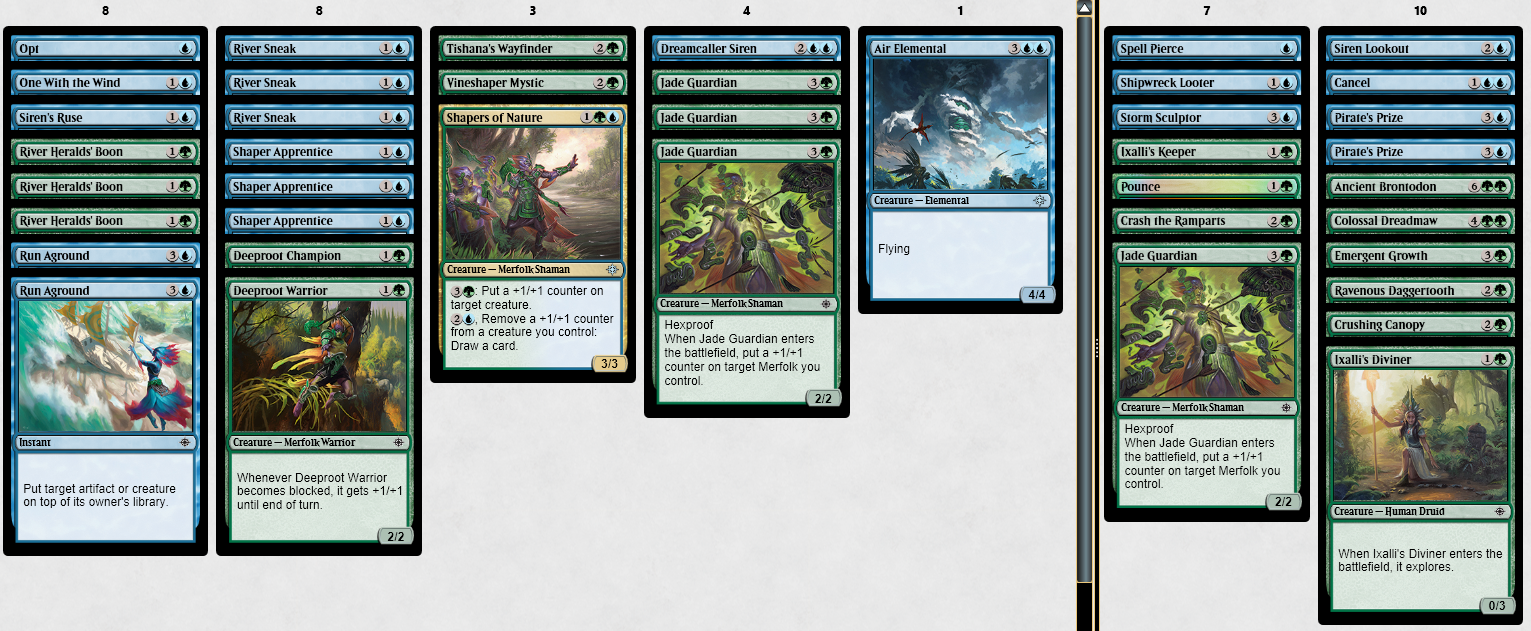 UG aggro; and when the colors are this open, it feels invincible. Left panel is the deck, right the sideboard; I played 16 lands, 8 forests, 8 islands. In the deck, first column are non-creature spells, the rest is the creature curve.
I never thought I will draft a Merfolk deck where I will not play all copies of
Jade Guardian
, but three
River Sneak and three River Heralds' Boon
really make you prioritize two-drops. Even Shapers were a bit out of place here, as I never wanted to draw a card, I just wanted to keep on attacking with my augmented Sneaks. The worst cards in the deck are probably
One with the Wind
, which is there primarily to enhance the Guardians,
Deeproot Champion
which was too slow for this deck, and
Dreamcaller Siren
- maybe that should just be Guardians number four. MVP were the Sneaks, the Boons, and Opt. I ended one game with a 7/7 Sneak attacking for exactly lethal through an army of Pirates.
Air Elemental
also seems great in this format. There is so little removal in the set, I fear creature aggro, or big dumb beast will just be the king.
So far, I've seen a few good Merfolk decks, mostly relying on Shapers to gain long-game advantage, and some good Dino decks, using combat tricks and beasts to overpower the opposition. I've seen a few fair Pirates decks, but not a single successful Vampire deck. At first glance, the format seems a lot more shallow and less interesting that Hour. What do you think?