Quote:
Maybe, but Red mages get a new toy with Lava Coil which I am sure will be packing at least a pair of maindeck. However, that is a card just asking to be broken if I've ever seen one.
Coil can be "dodged" by the lich.
True. Should have taken my time on that response. But it does open up the Red mage to swing in and have done 4 damage to face, so there is that.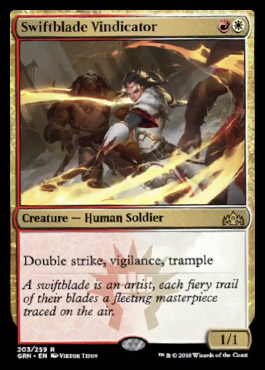 VOLTRON LOVERS REJOICE!
Trample?!
Yep...Mentor was made for this card.
Other new cards out:
Crackling Drake - UURR */4 Flying Enigma Drake on steroids...and it draws you a card CiP. Strictly better than Enigma Drake, though harder to cast and slightly more expensive. Probably the best or second best card in this cycle.
Conclave Calvary - GGWW, 4/4 Vigilance...probably the best in terms of stats for the cards in this cycle. Divides in two when it is killed, so difficult to get rid of. Lava Coil was made to counter this card.
Venerated Loxodon - Decent body, interesting payoff on Convoke, though it seems a bit slow.
Ledev Patrol - Good payoff on Convoke creatures when you don't have anything to Convoke, but sets you up for a sweeper.
Sweeping Giant - Way to expensive, limited bomb.
Blood Operative - Interesting CIP effect, though I can't think of much to use it on currently. Nice recursion ability.