Onwards along the color wheel, we have the mono-Red cards of the set. Five Rares and two Mythic Rares. I'm looking for anything that might be overpowered, as well as anything that might be underwhelming, boring, or not fitting in its rarity. Let's start with a Dragon:
Draconic Sorcerer
Creature - Dragon Wizard
Flying
, Tap an untapped Wizard creature you control: Draconic Sorcerer deals 3 damage to target creature or player.
5/5
Most of the Wizards in the set are pretty small creatures, so I wanted at least one curve-topping creature that could make a splash and end the game.
Seismic Rumble
Sorcery
Destroy target land
Cipher
(Then you may exile this spell card encoded on a creature you control. Whenever that creature deals combat damage to a player, its controller may cast a copy of the encoded card without paying its mana cost.)
I don't like land destruction as a strategy, since it just makes the other player bored. A repeatable effect even more-so. But if the reason it's repeating is because a creature keeps hitting you in the face, then it's easier to counteract and also more likely to simply end the game if unanswered rather than leaving you floundering.
Sandstorm Efreet
Creature - Efreet Shaman
Whenever Sandstorm Efreet attacks, each creature you control can't be blocked this turn except by two or more creatures.
Crescendo
— When Sandstorm Efreet enters the battlefield, if it was at least the second spell you've cast this turn, put three 1/1 red Elemental creature tokens onto the battlefield.
4/2
Not much to say on this one. I'm a fan of this form of Red evasion, and I think pairing it with a little token swarm is going to be fun.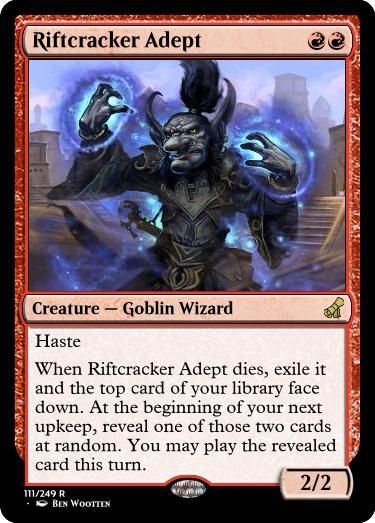 Riftcracker Adept
Creature - Goblin Wizard
Haste
When Riftcracker Adept dies, exile it and the top card of your library face down. At the beginning of your next upkeep, reveal one of those two cards at random. You may play the revealed card this turn.
2/2
I pushed this goblin's power level just because I really want him to get played. I like the randomness to his up-side, and the way you'll occasionally be cheering for him to die and get you something new.
Sculpted Magma
Instant
Sculpted Magma deals X damage to target creature or player. You may sacrifice a red permanent with converted mana cost X or greater. If you do, return Sculpted Magma to its owner's hand.
Making a burn spell that encouraged you to play lots of Red with it was a bit of a struggle, because the obvious choice of scaling the damage based on the number of Mountains you control or some other variable has been done way too often. The slightly older version currently in NGA Constructed is
rather different
, and didn't really feel right.
Mythic Rares: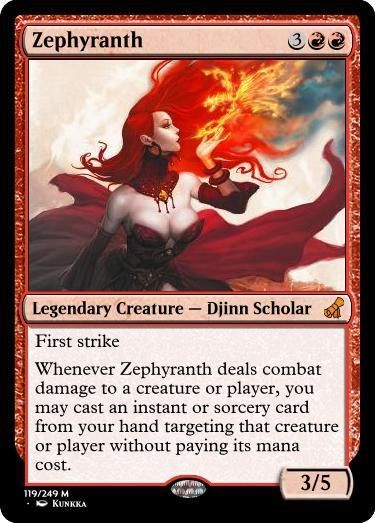 Zephyranth
Legendary Creature - Djinn Scholar
First strike
Whenever Zephyranth deals combat damage to a creature or player, you may cast an instant or sorcery card from your hand targeting that creature or player without paying its mana cost.
3/5
The headmistress of the Fulzhar Fellowship, Sagathia's sprawling organization of craftsmen, artists, explorers and scholars who don't feel like being contained within a school's walls.
I haven't given much thought to what combos you might pull off with this ability. I almost want to make her stats lower, just so players might be more willing to take the risk of blocking her...
Alreina Silvereye
Planeswalker - Alreina
: You may discard a card. If you do, add an amount of
to your mana pool equal to its converted mana cost.
: Gain control of target permanent until end of turn. Untap it. It gains haste until end of turn.
: Exile the top seven cards of your library. For each of those cards, put it in your hand unless an opponent pays life equal to its converted mana cost.
I just realized her starting Loyalty is incredibly low! I upped her mana cost to keep the +1 effect from being too explosive, but forgot to update that. That's unfortunate. I'll increase it in the next update. Three or four? Hmmm.
Alreina comes from my desire to make a Red planeswalker who doesn't just burn her way out of problems. She's not much for long range planning, but her impulsive nature lends itself towards trickery, clever dealing, and manipulating people's emotions to get the better of them. She's an interplanar treasure hunter on a search for adventure. I may flesh out her story some more in the future.
I'll post Green in a few days, then I'll have to figure out how to arrange the much larger number of hybrid-mana cards. Not going to try to fit 26 cards in one post.