Ok, totally different approach to the archetype, coz we have to accept that wizards are not the beatdown deck of the format -I say we but I mean mostly just me- and after playing quite a lot of DOM I just felt that wizards can be something different, so I returned to the whiteboard and start jamming those less aggressive wizards that don't shine just for the beats... and I came up with this thing:
TEMPO WIZARDS
The idea is to mess up our opponent board while we accumulate damage with evasive 2 drops.
The deck is mainly blue with splashes of red for Adeliz and Wizard Lightning so the mana base is way more consistent.
I´m trying Admiral order coz I got 2 of those from the draft, just for the occasional discount during combat it is also just a hard counter in any other case... but it might be better to just run Wizards counter...
Naru Mera can pump the team with flash and can also copy a Wizards lightning at 5 mana.
Warkite Marauder has been an all-star here, allowing Spellweaver Eternal to attack without trading and being a great target for curious obsession
Merfolk Trickster has been great also taping blockers end step and being ready to swing in our turn has been his line.
Journey Mage is a bit pricy but he is a 3/2 and that has been relevant the bounce is great at turn 4 coz if we are executing our plan they are desperate to put something on the ground and we punish them for that
4 x
Wizard's Lightning
4 x
Curious Obsession
4 x
Riddleform
4 x
Spellweaver Eternal
4 x
Merfolk Trickster
4 x
Warkite Marauder
4 x
Adeliz, the Cinder Wind
2 x
Admiral's Order
3 x
Academy Journeymage
1 x
Naru Meha, Master Wizard
2 x
Commit /// Memory
2 x
Spirebluff Canal
4 x
Sulfur Falls
2 x
Memorial to Genius
10 x
Island
6 x
Mountain
This deck is just waiting for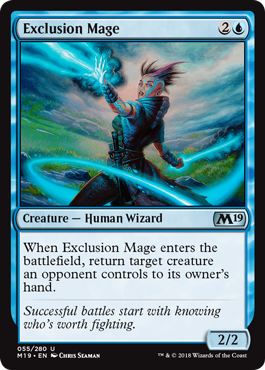 to get to ARENA
Importable pile