Ok kids so I´m giving combo a try, but I dont fancy Kethis coz **** Kethis, instead I looked at Underworld Breach and I´m trying to get it going.
So the deck works like this:
You cast this absolutely wacky card, mill yourself (or your opponent if it comes to that) into oblivion win with Thassas Oracle
WINCON
IMPORTANT your GY is one big resource in this deck and you eat it in chunks of 3, remember this!!!
Key pieces to loop.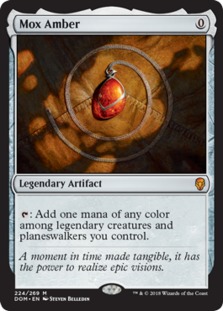 Your bread and butter.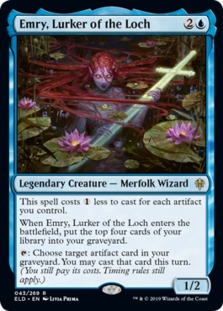 So you are ready to go when you cast
Breach
+
1.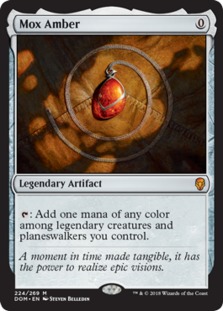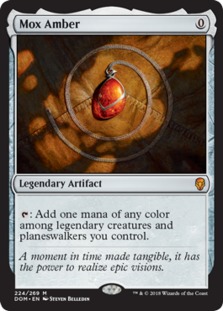 Clasic form, 2 Excavators and one looping artifact. This will mill you for 4 so that's one net card win + one mana for each cycle if you got Emry any PW or Lazav.
2.
+
Manaless lock, this one does not generate mana but it can still mill you until you find your Mox Amber.
3.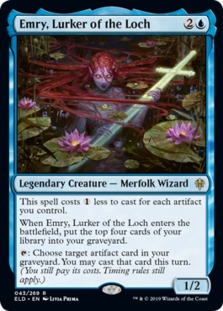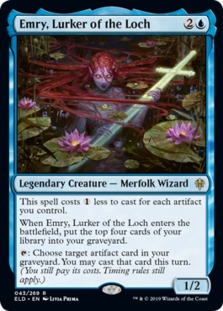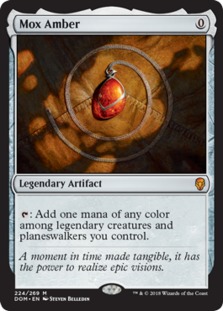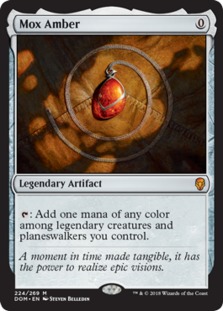 So you got Excavator + Emry, Mox and one extra artifact on the board + Emry and Mox on the GY
1.Activate the Mox get U
2.Cast Emry for U
Mill 2 from Excavator + 4 from Emry = 6 cards
3.Recast Mox Burn 3 cards, mill 2 =5 cards
Activate Mox.
Get U
5. Cast emry burn 3 cards= 2
Excavator mills 2 Emry 4= 8
Rinse and repeat
4. For emergency cases only.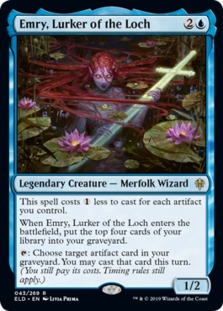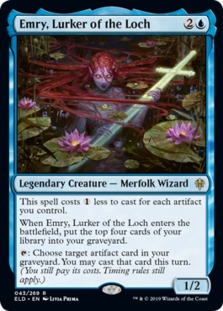 This one is not sustainable but it can give you chances to combo, for each time you do this you will see 4 cards.
So 2 Emry + 2 artifacts on the board this could be: Amber, Well, Saheeli's tokens or Wish claw and any combination of them.
1. Cast Emry burn 3 cards if you used Breach, let one die to legendary rule, mill 4. Net +1
2. Cast the Emry that just died from the GY burn 3 cards and U. See 4 more cards. Net +2
This way you are seeing more cards but the mana is not sustainable. Also you are looking to cast Excavators FIRST so then you are netting 3 cards for the cycle. Remember that when you need to cast them coz that's 2 mana + the 3 cards from the GY.
Don't cast the Amber's before or you will **** it up like me.
Redundancy
With Saheeli you can copy your Excavators to get the combo going besides you got quite a few non creature spells to create a defensive board to buy you time.
On an empty Board with Saheeli, 4 mana, 1 Excavator and Serpent or Moxes.
1.Cast Brach.
Saheeli makes a token
2.Cast Excavator from the GY
3.Copy Excavator with Saheeli.
Search for your serpent or your 2 Mox.
Lazav does the same thing at 4 mana.
1.Copy your excavator.
2.Cast Breach.
3.Look for your Serpent or Moxes
Little combos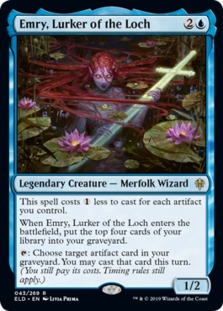 So with Emry on board you can cast this stone coil, if he dies in combat you just recast it again from the GY. He is one decent blocker vs Gruul.
Nice little mini combo betwen this two, coz with Ashiok on the board your opponent can't wish for things.
So this is what I have been goofing around this couple of days, needs some more work but overal is quite decent and can take off rather fast.
The mana lords PLZ help!!!
How about Jeskai......
Hmmmmm
HMMMMMMMM!!!
This gives us
Extra points on Serpent surviving Clarion.
2.0
Jeskai is not the way to go....
Lazav and Wishclaw are very important in the consistency area, besides Clarion just kills all your stuff too, Teferi is nice because it locks the combo, but then the deck felt heavy and it was not as explosive as before.
So I got back to Grixis, but I wanted some interaction, a removal spell that kept me on the game until I set up the combo, so I tried Tyrant Scorn... and this was great coz it gave me options... but the mana suffered I needed a lot more black sources and the tempo loss was huge coz I rarely had 2 spare mana... Soooooooo.... I landed on Unsummon.... and ohhhhh boy this is perfect.... soooooo perfect!!!!
this thing is on my main color most times my mox only make U and cost 1!. It can protect your creatures and is a huge tempo loss for aggro, so it went from 0 to 4 copies just like that!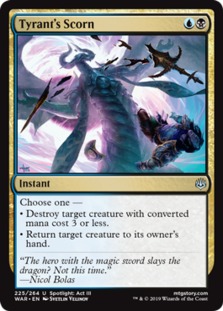 I also added another Thassa´s Oracle coz sometimes I like to cast it to get a blocker... and sometimes with Saheli or Ashiok this lets me see 5-6 cards, so its a great effect to get your last piece of the puzzle.
I also started working on a SB, and I´m taking this thing to B03, so far so good.
Sideboard
Stern dismissal is great against aggro but it also lets you deactivate an opposing leyline of the void when you are ready to combo.
Pierce and Duress are both 1 cmc and heartbreaking for control same as Narset.
Leyline deactivate opposing GY lunatics.
----
3.0
Jeskai.
So Teferi... Teferi... Teferi...
Yeah turns out Teferi is broken... Shocker!!!
And the ability to lock your opponent out of your turn is just too big on a combo deck, so we ended up splashing for him on the main... We are basically mono blue splashing white for Teferi and Red for Breach.
So latest changes are:
Side board is a work in progress but here's the current highlights
Sweepers
This feels more controlling and I think just a bit more powerful.