The format is strange... very basic but hard to figure out... I´m still off the 7 wins territory
but have gone consistently 4-3 and 5-3, I´m currently 1-2 with one life gain deck... but I got one loss for one unexpected match end... which I find total BS!
I send one report but I doubt they refund me or even delete the lost.
Ps: Modulo I have had very decent results with UB, divination, mind rot, macabre waltz work very fine to get card advantage and essence scatter is one of the MVP, never the less I most times need at least one bomb to dive into those colors, Dijin, Tezzeret or that gold creature that discards and draws you a card, or in the best case scenario patience rebuilding.
One card that has completely blown my mind is vampire neonate... that silly 0/3 really shines in this format, put one epicure of blood into the miz and you got one 2 cards common combo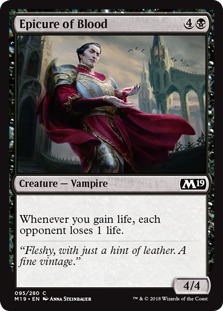 I just seen one sick UB deck on discord here is the build
salvager of secrets + abnormal endurance = free blocks
harpy + skeleton = 2
add a counter to harpy
harpy + salvager of secrets + abnormal endurance = 2
add counter to harpy
macabre waltz the salvagers into oblivion.