Welcome to
HOBGOBLIN LIVES:
A Spider-Man Mafia 2
Hobgoblin Lives
is an advanced bastard Mafia game for 21 players that is loosely based on the three part Spider-Man miniseries of the same name. In it you will find complex roles, all with their own assortment of exciting abilities. Some mechanics will be familiar, others are completely new. The design file has an impressive 29,000+ words in it, which, with 21 players, is more than a thousand words a pop.
Expect complex roles
. The game is a bastard game, which is my way of telling you to trust nothing! Some things in the game will intentionally deceive you, while others will make it nearly impossible for some of you to win. The game is not meant to be equal parts fair for all players; still, every single one of you has an opportunity to win, however small some of those odds may be. If you're interested in reading up on the inspiration for and development of this game,
I've talked about it at some length in the setup thread
. Now, I'm sure all of you are very excited to get underway - and so am I - but first, a very important video to set the mood:
The Story Thus Far....
While attending a demonstration in radiology, high school student
Peter Parker
was bitten by a spider which had accidentally been exposed to
radioactive rays
. Through a miracle of science, Peter soon found that he had gained the spider's powers...and had, in effect, become a human spider! After the tragic death of his Uncle Ben at the hands of a robber he let escape, Peter learned that with great power must also come great responsibility. Today, Peter tries to maintain a semblance of a normal life with his wife Mary Jane, his job as a Photographer for the Daily Bugle, and still somehow finding time to save the world as...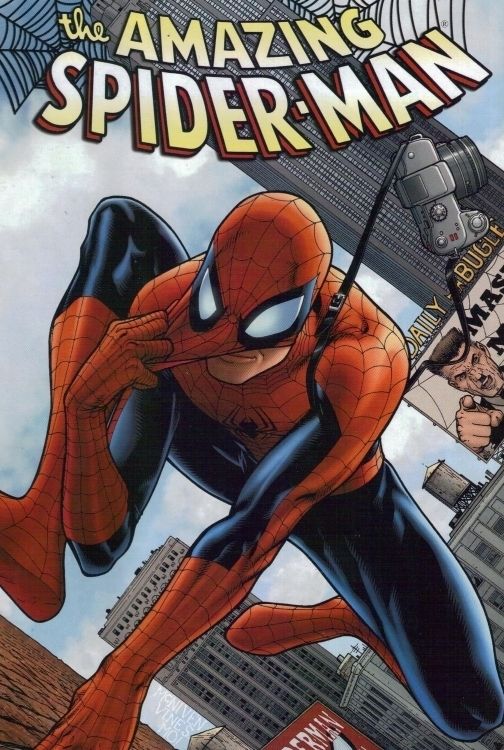 "But wait,"
you're saying,
"didn't Spider-Man hang up his webs for good at the end of the last Spider-Man Mafia game?"
Right you are, my very observant friend! Right you are. But for those of us who weren't around the last time: let's bring everyone up to speed, shall we?
Last time on

A Spider-Man Mafia

:
Zinger2099 wrote:
Epilogue
With
Carnage
defeated once and for all, the crisis was finally averted. But at what a cost? So much of the city has been devastated by the onslaught. Many of the cherished heroes of this town lie dead along with the hundreds of innocent people that were murdered. The Daily Bugle office was mostly destroyed and the Publisher and Editor were both killed. Fires in central park still burn, and dried blood adorns walls everywhere.
The town was painted red
. Many of the citizens who had fled decide not to return for fear that the city is now cursed. The military maintain Marshal Law until things settle down and with the help of businessman Norman Osborn donating money to get things back in order, eventually, the city started to come alive again. But it will never be the same. And what became of New York's Friendly Neighborhood Spider-Man? He gave up the tights for good and left New York and was never heard from again.
It's a pretty sad victory, but it is a victory.
THE END.
Wow. With an ending like that, who's left to do the sequel? As it turns out:
just about everyone
. Thanks to the soon-to-be-a-major-motion-picture
Doctor Strange
, the McGuffin of this story, the lives of those lost were mostly restored! Without going into too much detail about the ins-and-outs of being Sorcerer Supreme, Doc Strange was caught up in a otherworldly plot to destroy the universe at the time and his intervention to save all of reality restored alternate timelines. The event which would come to be known as the
Maximum Carnage Incident
still happened - everyone still remembers it - but the catastrophic loss of life was completely undone. Now,
the city
was an entirely different matter. Restoring the damage wasn't as simple as waving a wand, but there, too, a hero emerged. Legendary businessman
Norman Osborn
, presumed dead for many years, re-emerged from the ashes of New York city and put his entire wealth and influence into rebuilding all that was lost. Osborn was heralded as a hero by the people, and so it wasn't long before he was ushered into office as New York city's Mayor. His campaign slogan,
"Together, as one, we won't be victims anymore!"
was wildly popular, uniting the people under a banner of teamwork and justice to build up the strength to prevent events like the Carnage massacre from ever befalling this proud city again. In time all was restored; the people, the city, and even the heart and soul of what made New York great.
And what of
Spider-Man
? New York's so-called "hero?" He's back too, but he doesn't show his face as much as he used to. Public opinion of the wall-crawler has shifted in recent years to be more in line with that of
J. Jonah Jameson
's and
The Daily Bugle
. The people may have survived the
Maximum Carnage Incident
, but they still remember it like it was yesterday. PTSD was common among people who remember some of the more gruesome events. The people needed someone to blame for what happened, and Spider-Man fit the bill. After all, he failed in his responsibility to protect New York from the likes of
Carnage
, and when the going got especially tough
he walked away
. To be honest, I can hardly blame them for their sentiment, and I'm the biggest Spider-Man fan in the room.
But all of that may soon change. A new enemy lurks in the wings, waiting for his entrance cue. Or is it an old one? It's sort of complicated. You see, I'm talking about
THE HOBGOBLIN
.
Yep, that's the one.

The Hobgoblin
first surfaced around five or six years ago and was initially a huge pain in Spider-Man's side. He had all of the strength and arsenal of the original
Green Goblin
, with some new added gadgets to the mix as well. Perhaps most difficult to deal with was the fact that both he and Spider-Man were fairly evenly matched, so defeating him proved next to impossible. The Hobgoblin made a name for himself very quickly, rising to the top of the seedy underworld of organized crime.
Then he died
. Or so we believed.
The Kingpin
produced proof that the recently deceased Bugle reporter Ned Leeds had in fact been the Hobgoblin all along. Case closed. Only it wasn't because by the time Spidey learned of this Ned had been dead for a month and the Hobgoblin was still parading about. Turns out that there was a second Hobgoblin on the scene. Fortunately for Spidey, this wannabe wasn't nearly as capable as his predecessor and so he frequently found himself in jail. Fast forward a few years and the second Hobgoblin, one
Jason Macendale
, is finally being brought to trial for his numerous crimes. There was only one problem: Macendale wasn't the first Hobgoblin!
For all but select few individuals this was brand new information. It was a smart move in terms of delaying his court case; now prosecuting lawyers had the daunting task of
proving
which Hobgoblin-related crimes Macendale was to blame for. However doing it with all the news cameras pointed his way was not so smart, after all, you never know who might be watching. You see, the original Hobgoblin wasn't Ned Leeds at all. Ned was an unwitting pawn who'd been duped into helping the Hobgoblin fake his own death. A plan which worked beautifully until Jason Macendale started drawing attention to a five-year-old cold case which risked exposing the lie. The original Hobgoblin was none too pleased with this, so,
he paid Macendale a visit
.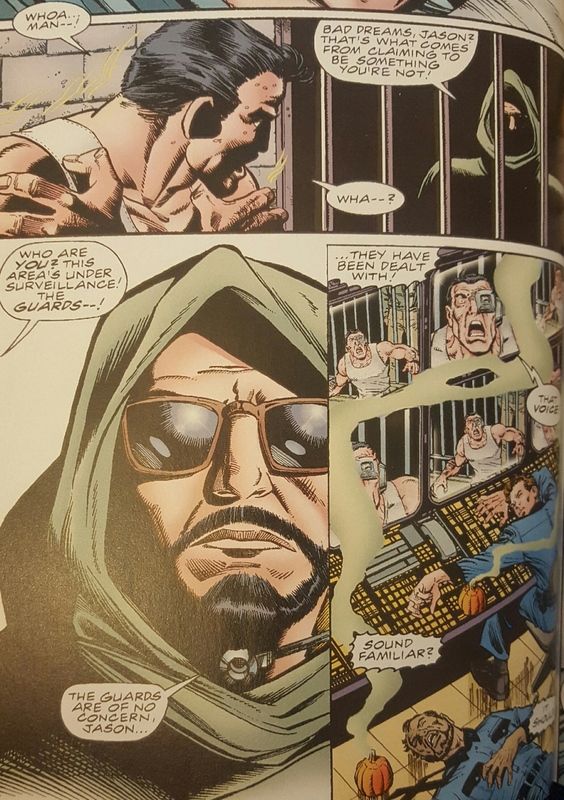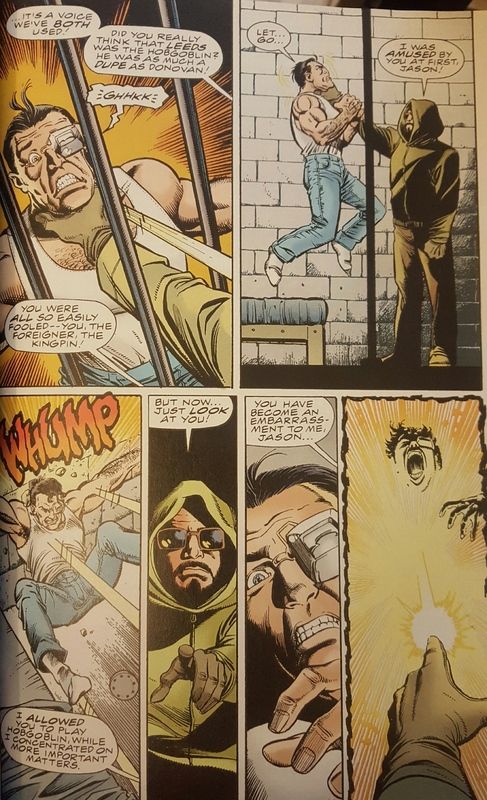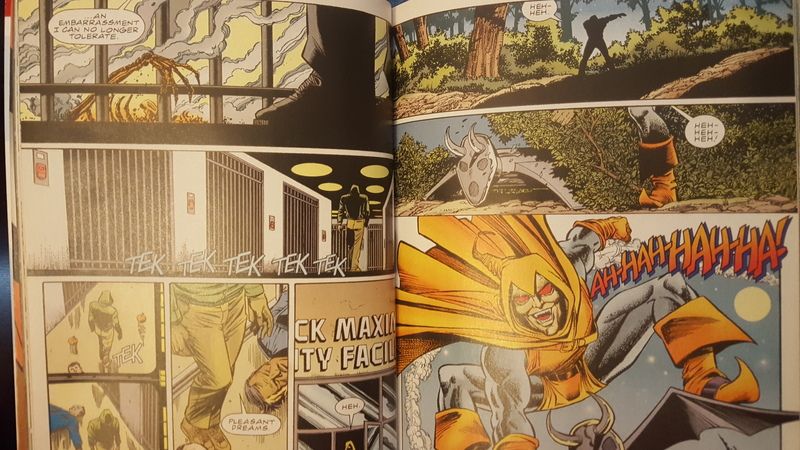 It seems our worst fears are confirmed, true believers. The original
HOBGOBLIN
is back, and he's just as deadly as ever. Assemble the troops! Call out the heroes! Prepare yourselves for another exciting episode of...