You've all been very patient, and for that, you have my thanks. It's about time that patience pays off, wouldn't you say? Well, have I got a treat for you. Sit down ladies and gents, it's
story time!
It was the mid-90's and
Spider-Man
was at the height of his popularity. We're talking over five regular mags devoted to the wall-crawler a month!
The Amazing
,
Spectacular
,
Web of
,
Unlimited
,
Untold Tales of
,
Spider-Man
,
and many more
would find their way onto store shelves faster than they could sell out of them. It was both the best of times and the worst of times to be a Spider-Man fan; best because there was no shortage of new Spidey tales to be told, and worst because of what inevitably happens when you oversaturate a market - the quality suffers. It was during this period of unprecedented Spidey popularity in which the mind of one Terry Kavanagh gave birth to
The Clone Saga
.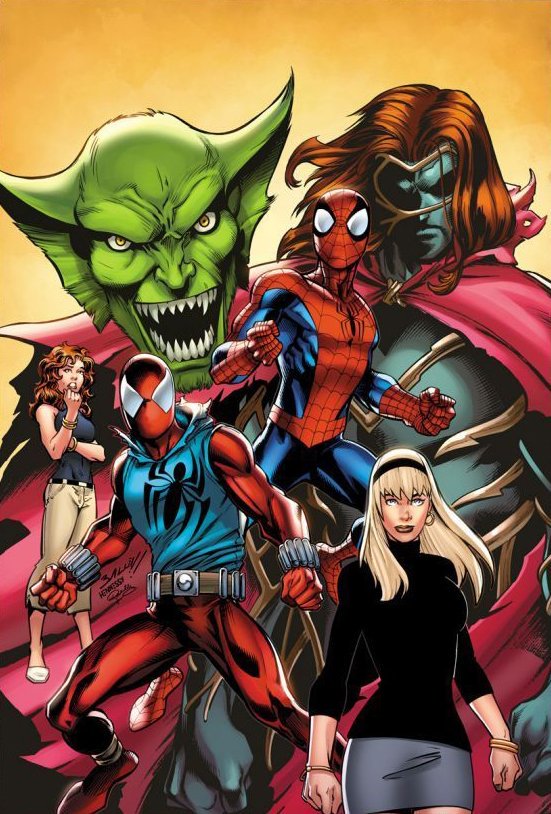 (I do so love this poster)
Oh, not all at once mind you, and not on his own, but Terry's the man who first brought the idea to the table at one of the regular Spider-Conferences held by the writers behind the many Spider-Titles at Marvel. The so-called "Clone Saga" has become, perhaps, the single most controversial storyline in the nearly fifty-five-year history of the character. What was originally meant to be a mini-epic contained within a small crossover event was undone by its own popularity: The Clone Saga and its creators delivered a fresh and fun tale of web-spinning action that it soon ballooned into a sprawling, years-long storyline. Setting aside the successes and shortcomings of the Clone Saga, it is undeniably an important part of Spider-Man's narrative legacy. To set the scene, after five years (for Spidey, not us) of being presumed dead,
Spider-Man's clone
resurfaced. That's right, the
very same clone from the October 1975 issue of Amazing Spider-Man
(issue 149) was back, digging deep into old wounds, and you can bet where there were clones
The Jackal
wasn't far behind.
(Yeah, that one)
I won't bore you with the many details (and there are oh so many), but the biggest plot point in the years-long saga was that, predictably, the Peter Parker that we'd been following for the past 20 years was, in fact, the clone all along. The infamous writers behind the Clone Saga decided that Spider-Man's exiled clone was actually the original Peter Parker, his life robbed by the Jackal's evil plot. The Peter we knew (the "clone" who we'd been following since 1975) gave up being Spider-Man and went to live happily ever after with his pregnant wife, while the one who'd recently shown up on the scene (the "original" Peter Parker) took up the mantle and finally started living his life which had been robbed of him all those years ago. I know, right? Well, you can see why the story was so controversial. Needless to say, there was fan-outrage of the like of which Marvel had never seen, so it's no wonder that they later retconned the twist to all have been a ploy masterminded by the original Green Goblin (himself thought dead for many years as well). The real Peter Parker came back and the clone was killed, bringing an end to the saga.
There was, of course, much more to it than that. There were twists and turns of all shapes and sizes, and through it all there were many, many clones (oh yes, the original Clone wasn't the only one!), but at the end of the day none of them upstaged the main point of controversy - the switching of the Spider-Men. Which brings us to
A Spider-Man Mafia 3
. I bet you're all wondering how all this nonsense will play a part in the epic game to come? Well, I'd tell you, but like the many writers before me, I can't ruin the surprise until the penny drops. I can say one thing, though, this edition of A Spider-Man Mafia is the most confounding yet!
I know, I know, enough with the teasing. Well, I did say your patience was about to pay off, didn't I? So let's get on with it!
I am now opening up Sign-Ups for
The Clone Saga: A Spider-Man Mafia 3
. You're welcome.
This game is designed for a whopping
24 players
, but can be modified to accommodate
as many as 30
if the interest is there. But wait, there's more! As some of you probably recall, prior to the start-up of
Hobgoblin Lives
I held a game of 20 questions here in this thread. I plan to do something similar again. When you sign up for The Clone Saga, you may ask me one yes or no question which I will answer truthfully. If you don't ask a question when you sign up, or you don't ask a yes or no question, you void your chance to ask a question in this way. Also, I'll only answer the first 20 questions, so the last four to ten players to sign-up won't get a question. Finally, if you ask a question which I deem game-breaking, I won't answer it at all, so think carefully about what you want to ask.
Well, what are you waiting for? This player list won't fill itself.
THE CLONE SAGA PLAYERS
1. 15377 - No question
2. Rubik - Nada questionaro
3. KingofDominaria - Will you lie to players in their role pms?

No


4. Mongoose - I pitty da foo' who ain't asking no question
5. Tevish_Szat - Like this guy
6. Freddeh - Will a third party faction/player have an above average chance of winning this game?

Yes


7. Aaarrrgh - Will the game feature any superheroes other than Spidey?

Yes


8. Niklor - Are the rumours true that you know what we are all doing at all times?

Maybe


9. Shockwave07 - Is Deadpool in the game at all? No
10. Elijin - Will you answer this question with a no?
11. Captain_Lunch - Will there be kidnapping? No
12. NeoSilk - Can I hold my question until others have been answered? No
13. LordMark - Are you the greatest game mod that ever lived?

Yes


14. Iso - Will Carnage be in this game in some capacity? Yes
15. This could be YOU!