UPDATE (September 29th, 2019):
Sign-Ups for A Spider-Man Mafia 3 are finally BACK OPEN!
Click here for details about the plot of A Spider-Man Mafia 3.
Some of the image links don't work, this is quite old.
TO SIGN-UP:
1) Type "in" in this thread
2) Send me a message with an email, Twitter handle, OR a Discord username that you check semi-regularly.
The email/discord/twitter handle is so I can ensure you're serious about playing this massive game and so I can get ahold of you when the time comes.
THE CLONE SAGA PLAYER LIST
1. JayDreven
2. Naga
3. Tevish Szat
4. Rubik
5. Aaarrrgh
6. Ragnarokio
7. KingofDominaria
8. NeoSilk
9. PK
10. Freddeh
11. DuskyBlue
12. _ExLight
14. Captan Lunch
15. shadow amber
16. This could be YOU!
The rest of this post, broken image links and all, pertains to A Spider-Man Mafia 2.
For the game thread of HOBGOBLIN LIVES: A Spider-Man Mafia 2, click here.
Page 2 has more info about The Hobgoblin himself,
whereas
Page 3 has more info about the new machanics of the game
, and
Page 4 reveals the names of 7 characters who are definitely in the game
(depending on your posts-per-page count, these numbers might differ). Don't be shy! Come discuss the upcoming game with me. Who knows, I might just reveal another spoiler or two.
Let me tell you a story...
Two years ago, in the wake of what has become known as the boardpocalypse, I hosted a Mafia game like no other back on the mothership - Px2. This Mafia game was my crowning achievement as a game designer, having spent over a year preparing and refining it. With the fate of Px2 still uncertain my game was ushered forth under the banner of a yearly invitational to try to salvage what was left of the community while bringing in new blood to bolster it. Although my game ended up being the last Mafia game hosted there, to my recollection, it was an incredible success. Sure, the game was plagued by a severe number of lurkers and a crippling design flaw (no Day deadlines) which dragged the game out to almost a point of abandonment at times, but the rich flavour and exciting game mechanics kept enough of the players interested to see it through to the end. I don't think there is a single player from that game (excepting maybe those that I had to replace) who did not enjoy it.
That game was of course none other than...
MAXIMUM CARNAGE: A Spider-Man Mafia

.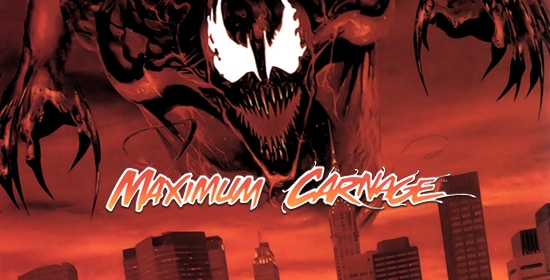 Click on

Carnage

to visit the original game thread!
Ah, what a game it was.
Maximum Carnage
combined my favourite web-slinging wall-crawling superhero with my love of Mafia design into a beautiful red velvet cake with a deliciously entertaining serial psychopath icing on top. What more could you ask for in game flavour? In fact, as I sat down to write this I couldn't help but read some of that original game and before I knew what was happening an hour had passed and I was on page 10 thoroughly caught up in the excitement of it all! Now that's an impressive statement: if a game you designed can still capture your interest two years past, you must have done something right. Just thinking of some of the more unorthodox, yet exciting, game mechanics and roles that were featured in
MC
brings a smile to my face.
To list a few,
Maximum Carnage
featured:
A publicly outed, yet seemingly unkillable Mafia Don on Day 1
Two Spider-Man roles present
A secret cult-like role separate from the main Mafia
Personal wincons as well as team wincons
Individual Lynch Thresholds
Unique abilities, such as the Newspaper Editor's ability to include messages in the opening posts of each Day


Carnage

role-playing killing off NPC characters in every post resulting in real, game altering effects
And many, many more
But don't take my word for how awesome this game was,
see for yourself
:
See what I mean? That was
one role PM
. Out of 24. I don't go half tilt when it comes to Spider-Man.
And it is as I sit here reminiscing about all of this Spidey-Mafia nonsense that one question comes to mind. Well, okay, two questions. One: what to refill my empty Spider-Man glass with - water, lemonade, or ginger ale?
And, perhaps more importantly, two:
how to top such an epic undertaking now that I have raised my own bar so high?
There of course is only one possible answer to that question...and I don't mean lemonade...
.
..
...
....
.....
...........................................................
HOBGOBLIN LIVES:
A Spider-Man Mafia 2
That's right, I'm doing a sequel! But not just any sequel, a sequel that promises to unsolve what is arguably the greatest mystery of the wall-crawler's career! This is what the book has to say about this illustrious tale:
"For years, the mystery of the Hobgoblin's true identity has plagued not only Spider-Man and his friends, but also fans! Now, all is revealed - and the answers will shock you! As the Hobgoblin stands exposed at last, the threats of Norman Osborn and the gregarious Green Goblin wait in the wings! Featuring all of your favourite Spidey characters, from Mary Jane to Betty Brant to Robbie Robertson! The Hobgoblin Lives, and Spider-Man's days may be numbered!"
I couldn't have written a more action packed hook myself!
Stay tuned, True Believers, for this
All New, All Daring, Spectacular, Amazing
, incredible action-packed tale is coming to a
No Goblins Allowed
Mafia game near you soon!
EXCELSIOR!