WELCOME TO VALOR'S REACH
Like how Conspiracy led us to create Fiora, so, too, did Battlebond get its own world.
Kylem is the brand-new plane Battlebond takes place on. All of the new cards in Battlebond are set on this world, and the vast majority of them really focus on the stadium of Valor's Reach.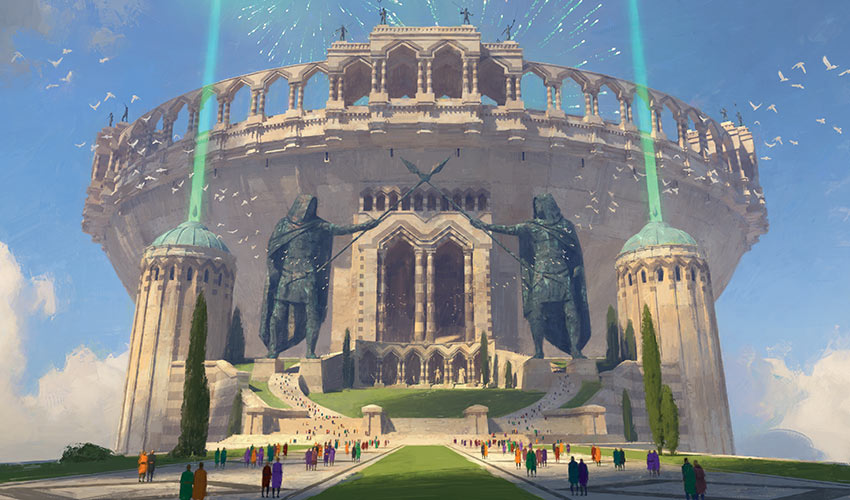 Many different forms of combat take place in Valor's Reach. Beings come from far and wide to watch competitions in the stadium. And by far, one of the most popular forms of combat is two-on-two battling. Many have fought here, and a few particularly notable duos have quite the fandom around them.
Also note, the fighting here is non-lethal. Unlike other worlds where it's often about brutally smashing the opposition, here you want to win with style. Crowds come from all over—it's important to put on a show!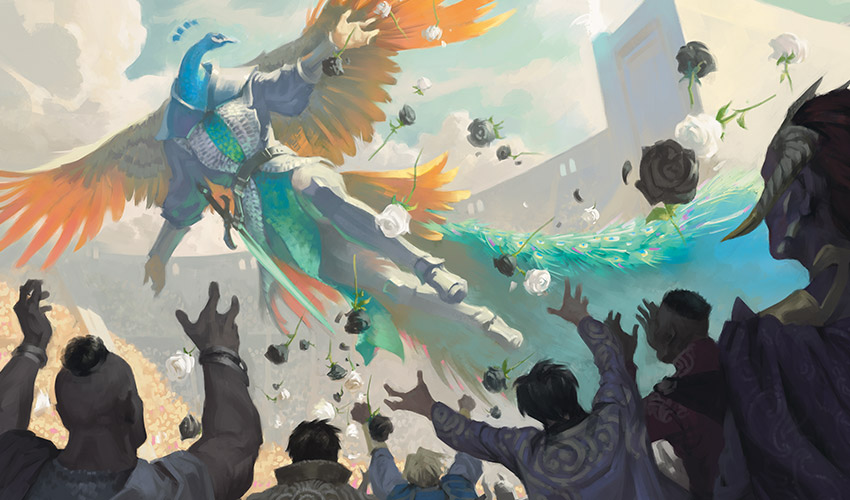 Earlier I mentioned fandom, and Battlebond has plenty of it. Battlebond plays in a creative space no other set really has. (I know that me and the Creative team had a really fun time sliding all kinds of Easter eggs into the set—and I can't wait to see how many you all catch!) Battlebond has a lighter tone than a lot of our sets as well, allowing us to have real fun with our mixed vibe of sports and video games.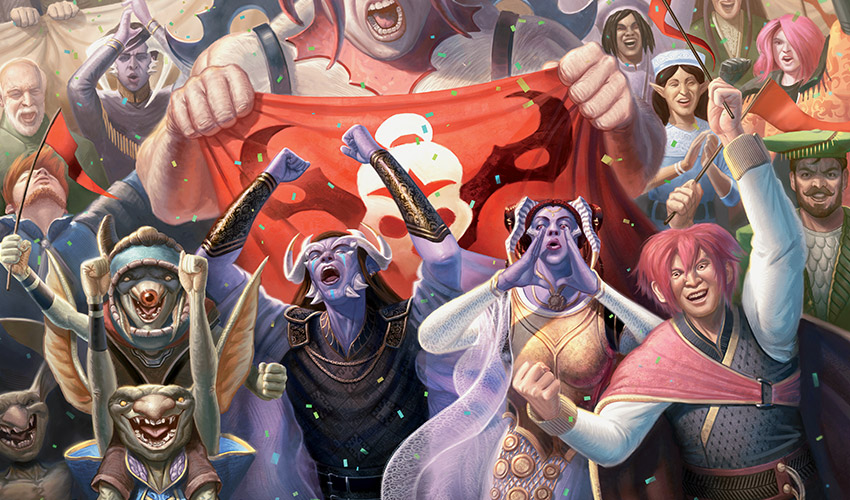 Almost all of the world's most popular sports and games involve teams, which brings us back to one of the awesome things about Two-Headed Giant: you get to play with someone else on your team! You get to talk, laugh, and high-five them. We noticed it was a great opportunity for people to play with those who might not normally: a family member, a significant other, someone who is newer to Magic or hasn't played in a while—so we wanted to deliver an experience that was great for all of those players while maintaining Magic's fun, dynamic gameplay.
Where we landed was really making Battlebond about good, clean, traditional Magic gameplay. We wanted a lot of the cards to be understood quickly, especially at lower rarities. This is important because playing with double the permanents on the battlefield from two players ups the board complexity a ton. Trust me—there are still plenty of tricky plays and plotting strategy to be found in Battlebond.
Also, we knew it was going to one of the first times many people would be playing Two-Headed Giant. So, we wanted to make sure we captured all the awesome pieces, while reducing confusion around how the rules worked wherever we could.