Last Week's Winner
---
We just wanted to hold a nice little contest, just CommanderJim couldn't stop destroying all the vases.
(Two weeks in a row with this guy!)
The Contenders
---
Factory Floor
Land (R)
When Factory Floor enters the battlefield, create a 0/1 colorless Worker creature token.
, Tap an untapped creature you control: Add one mana of any color.
"Sloth is an affliction that's dangerous to the individual and deadly to the group."
—Carthin the Visionary
Douse with Paralytic
—
Instant (U)
Counter target activated ability that costs
or more to activate. Its controller skips his or her next untap step.
Cycling
.
Flowing Thoughts
-
Sorcery
|
U
Draw two cards.
Sublimate
(You may cast this card face down as a 2/2 creature for
. Turn it face up any time for its sublimate cost. If you do, put it on the stack.)
Binding Array
Enchantment (U)
When Binding Array enters the battlefield, exile another target nonland permanent for as long as you control a permanent named Binding Array.
"As long as even one link of the great chain holds, we are safe."
—Hildvast of the Lost
Foreborn
Creature — Horror
(U)
Flash
When ~ dies, target player draws a card and loses 1 life.
(A creature with toughness 0 or less dies immediately.)There's no gratitude in a cry of anguish.
2/0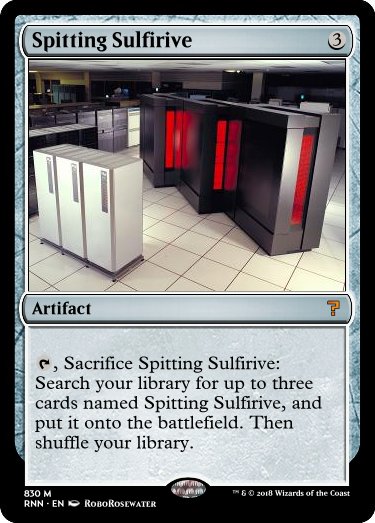 The Rules
---
How To Nominate:
Quote the post with the card you want to nominate. Delete everything in that post other than the card. Copy and paste your quote into a post on this thread.
If you did it right the quote tag should link to the original post.
What's Eligible?
Any fan-designed M:TG card posted since the most recent CotW thread went live is eligible. It doesn't even have to be the first time the card was posted. Yes, Un cards are valid. No, Yugioh cards are not.
What's Not Eligible?
Nominating your own cards. You can only nominate cards by other people
Nominating a card from your own repost, regardless of whether or not the original post was yours.
Nominations that result from collusion. If a nomination is made in exchange for some sort of favour, or under some sort of threat, then the nomination is void.
Cards that have already won CotW are not eligible for future CotWs.
Nominations that I consider to be jokes or trolling.
A Note On Contests:
Many contest holders feel that having an entrant nominated for CotW will skew the results of their contest. To prevent this while still allowing those cards their chance at nomination, any card submitted to a contest is eligible for nomination to CotW as though the date the contest (or pertinent round of the contest) ended was the date the card was posted.
Past Winners
---
----
----
----
----